2015 Bloomberg Philanthropies Awards for Global Tobacco Control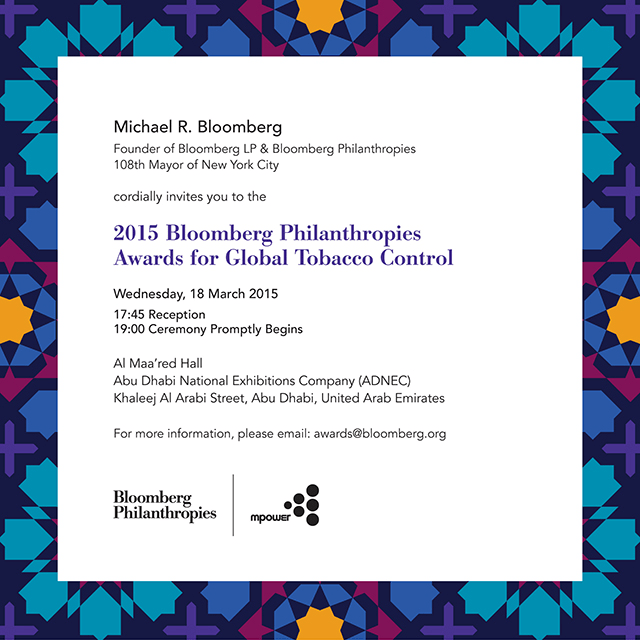 About the Bloomberg Philanthropies Awards for Global Tobacco Control
Bloomberg Philanthropies is proud to host the third Bloomberg Philanthropies Awards for Global Tobacco Control as part of the World Conference on Tobacco or Health in Abu Dhabi. The Awards were created to recognise governments and non-governmental organizations demonstrating excellent progress or achievement in the implementation of MPOWER measures in low-and middle-income countries. MPOWER, established by the World Health Organization and consistent with the WHO FCTC, describes six of the most effective tobacco control measures: Monitoring the epidemic and prevention policies; Protecting people from second-hand smoke; Offering help to people who want to quit; Warning about the dangers of tobacco; Enforcing bans on advertising, promotion and sponsorship; and Raising taxes and prices. A panel of global tobacco control experts will select the awardees. All registered conference attendees are welcome to attend.
About Bloomberg Philanthropies
Bloomberg Philanthropies works to ensure better, longer lives for the greatest number of people. We focus on five key areas for creating lasting change: Public Health, Environment, Education, Government Innovation and the Arts. These areas encompass the issues Michael R. Bloomberg and his team are most passionate about, and where we believe the greatest good can be achieved. For more information, please visit www.bloomberg.org.